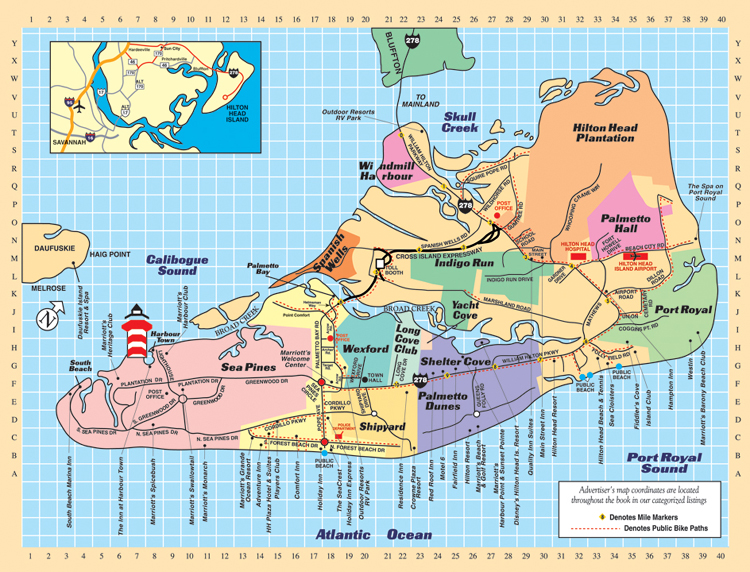 Palmetto Dunes (including Shelter Cove & Leamington)

This popular resort and residential community is located mid-island, sitting on 1,800 well-preserved acres. Inside its guarded gates are three miles of world-famous Atlantic Ocean beaches, 11 miles of winding lagoons, and one of the largest tennis centers on the island, with 25 courts. Palmetto Dunes is also home to the Hilton Resort and the Hilton Head Marriott Beach and Golf Resort, previously the Hyatt Regency Hilton Head Resort. Its three public, 28-hole golf courses were designed by PGA favorites George Fazio, Robert Trent Jones, and Arthur Hills. The community ranges from year-round residents to weekend visitors due to the wide range of property types (homes, villas, oceanfront condos and the two hotels). Also part of Palmetto Dunes is Shelter Cove Marina and the private enclave known as Leamington. Palmetto Dunes has 1,012 homes and 1,470 villas. Palmetto Dunes villas start at $225,000, lots at $450,000, homes at $550,000.
View Current Listings in Palmetto Dunes
Long Cove

Golf Digest magazine has rated Long Cove Club's private golf course, the number one Golf Course in South Carolina for ten years straight. A membership to this challenging golf course is included with ownership in Long Cove club. In the 1980s, the plantation's developers chose to carefully preserve the area's live oaks, magnolia and palmetto palm trees, which create a serene, wooded environment in which its signature golf course is nestled. In addition to the Pete Dye golf course, a new tennis center was opened in 2002. Residents also enjoy deepwater access to Broad Creek from the community's boat docks. This plantation is situated between Yacht Cove and Wexford Plantation toward the island's south end. 569 homes. Lots start at $324,000, homes at $749,000.
View Current Listings in Long Cove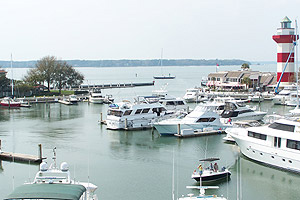 Sea Pines
Sea Pines is the original Hilton Head Island resort (created in 1958). It encompasses nearly 5,000 acres and is a self-contained resort and residential community offering real estate opportunities in a variety of settings. From country club style neighborhoods to beach oriented areas to the hustle & bustle of Harbour Town, Sea Pines has a little bit of everything. Sea Pines features four 18-hole golf courses, including Harbour Town Golf Links, home of the Verizon Heritage Classic; 28 tennis courts at the Sea Pines Racquet Club, former site of the Family Circle Magazine Cup; two marina villages; a 600-acre forest preserve; and five miles limited access beach.
View Current Listings in Sea Pines
Shipyard Plantation
Shipyard is situated on 803 acres on the Atlantic Ocean side of Hilton Head. Shipyard features 27 holes of golf, a 24-court racquet club and a pleasant stretch of limited access beach. In addition to single family homes, Shipyard is primarily geared towards vacation oriented villas (250 total). Additional amenities include bike paths, jogging trails, fishing, and swimming.. The Crown Plaza Hotel is located within the plantation's gate.
View Current Listings in Shipyard Plantation
Hilton Head Plantation
Hilton Head Plantation, the Island's second-largest community is quietly residential, and encompasses 4,000 wooded acres at the northern end of the Island. Recreational facilities include four separate equity golf clubs, tennis courts, a beach park, pools, stables, and a full service marina. Bounded on two sides by Port Royal Sound and Skull creek, its breathtaking sunsets and water views are unsurpassed. Well planned and meticulously maintained, this friendly and socially oriented community of predominantly full-sized and patio home sites is designed to accommodate approximately four thousand families.
View Current Listings in Hilton Head Plantation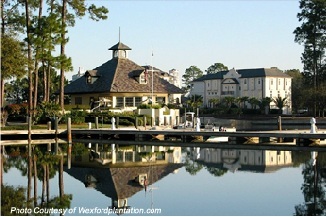 Wexford
Wexford Plantation is an exclusive, private yachting and golf community offering an elegant lifestyle. Many of Wexford's impressive residences are built along the edges of the lock-controlled deep-water harbor and charming canals that wind through Wexford's 500 very private acres. Activities center around Wexford's luxurious clubhouse and yacht basin. Amenities include golf, boating, croquet and fun social activities. For pure luxury you can't beat Wexford.
View Current Listings in Wexford
Port Royal Plantation
Port Royal Plantation is a 1000 acre private beach-front community limited to single family homes and was the second Island community to be developed (in 1968). Its three miles of wide sandy beach round the curve from the sparkling Atlantic Ocean to Port Royal Sound At the gates of this tranquil community are resort facilities that include a magnificent Southern Clubhouse, three golf courses, a championship croquet court, and a five star racquet club. The Westin Resort calls Port Royal Plantation its oceanfront home offering fine dining and superb health club facilities.
View Current Listings in Port Royal Plantation
Palmetto Hall Plantation
Palmetto Hall, the Island's newest community is a unique residential community that features two distinctly different, yet challenging championship golf courses by world renowned architects Arthur Hills and Robert Cupp. With generously sized golf-oriented home sites, Palmetto Hall is a place to experience the warmth of a real neighborhood with the pleasures of a friendly country club lifestyle. With just 525 home sites on 750 acres, Palmetto Hall boasts one of the lowest ratio of homes to golf holes on Hilton Head Island. Palmetto Hall offers variety, value and challenging golf in what is known as the best private golf club community on Hilton Head Island.
View Current Listings in Palmetto Hall Plantation
Forest Beach (includes North and South Forest Beach)
Located on the south end of the Island, the Forest Beach area is unlike any other. It's an interesting mix of old, new, modest and large. A popular short term vacation rental area due to its close proximity to the beach, the Coligny shopping area, restaurants, and evening activities. There are about 600 residential homes & lots, and a couple of thousand villas located either on the beach, or within a short stroll to the beach. The Forest Beach area is not a gated community or a planned resort.
View Current Listings in Forest Beach
Indigo Run
Indigo Run is a private residential and golf community located directly across Highway 278 from Hilton Head Plantation. The community encompasses 1,712 acres and at maturity will include 1200 to 1400 residences. Home sites in Indigo Run overlook the golf courses, lagoons or the marshes of Broad Creek. The Golden Bear Golf Course, designed by Golden Bear Design Associates, a Nicklaus company, includes a clubhouse with casual grill and pro shop. The Golf Club at Indigo Run is a members-only signature golf course and includes a clubhouse and a full array of recreational amenities.
View Current Listings in Indigo Run
Spanish Wells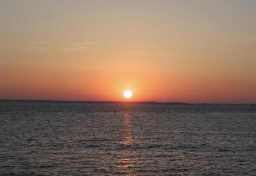 For those individuals who treasure waterfront privacy and tranquility, Spanish Wells Plantation is the answer. A peninsula of single-family homes, Spanish Wells home sites range from 1/2 acre to two acres in size. Views include deep water, golf and private wooded settings. The Spanish Wells peninsula features some of the most beautiful homes on the island along with fabulous views of Broad Creek, the open waters of the Calibogue Sound and the Intracostal Waterway. The 350-acre community has a semi-private nine-hole golf course and a private pool complex.
View Current Listings in Spanish Wells
Windmill Harbour
Windmill Harbour is a 172 acre private residential community reserved for 500 residences. The community on the Inter-costal Waterway offers beautiful views of the Inter-costal and saltwater marshes. It is also the home of the South Carolina Yacht Club. The primary focal point of Windmill Harbour is a 15-acre inland harbor - twice the size of Harbour Town. The sports center at Windmill Harbour offers four clay tennis courts, saunas, Jacuzzi, dressing rooms, a pro shop and 25 meter swimming pool. Jogging and bike trails also found throughout the community.
View Current Listings in Windmill Harbour
Please contact Pete to set up a showing of any of these Hilton Head Island homes!